Since my posting seems to be in a bit of a lull, I thought I'd post pictures of Ireland that I had never posted before, mostly because I'm not a particularly good photographer, and often time I forget. But, Ireland is pretty beautiful, regardless of the deficiencies of the person taking the shot.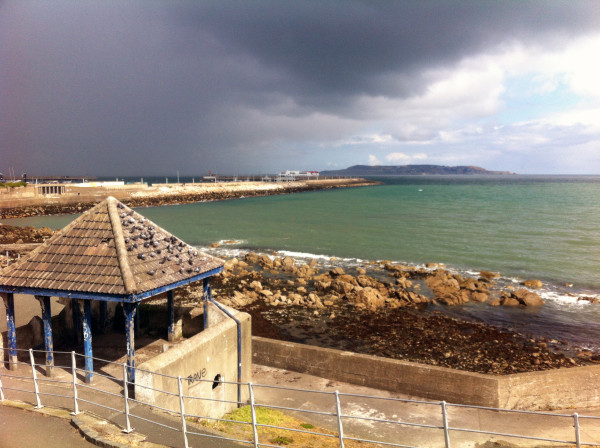 This harbour is only about a kilometre from our house and an area we go past every single day on the train into town. This particular day at the end of April I was taking a photo of the green sea since the colour was so incredibly vibrant. What I didn't notice was that looming black cloud to the left which was coming straight toward us and left us running from huge hail stones 15 minutes later.
Right behind us is The People's Park, somewhere we go every Sunday because of the great food market that comes in. We brought my mother a few times during her last visit for dumplings and cider and, once, while looking out at this view of the sea said, "Wow. You are so lucky to live here."
Instead of agreeing, Bub and I both stopped and looked at each other in shock. My mother accepting Ireland? Thinking I'm lucky? Is she drunk? Are we?
Seeing our faces, she quickly amended herself, "Well, you know. Whatever. I didn't mean it."
That's better.