Alternative photos source, like alternative energy.
We spent the weekend with friends in their house with the grass. As I have mentioned before, they are having a baby very soon (and I mean very soon – like, less than three weeks soon) so they are putting together the nursery and can I tell you how precious this child will be? Can I tell you? Because this little madam has two little, pink, baby chandeliers in her bedroom. TWO. And she's not even born yet. I don't even have one and I have been on earth long enough to earn at least one chandelier. I'm reporting a complaint about my parents to DYFS.

When we were packing I went down there with the intention on taking photos of their house and the beautiful surrounding area of Brittas Bay only to forget the camera. Their kitchen looks back to some brilliant views of the mountains and then only a very short ride away is the beach where the dogs ran and ran and ran and ran. A man in a bright green Speedo was splayed out in the sand. Out in the water there is a wind farm which looks so awesome – like something out of a movie (because alternative energy sources only happen in the movies).

Wouldn't all that have been fantastic to SEE IN PHOTOS?? Yeah, I think so too. So instead of looking at personal, emotive photos taken by me, I'm stealing some from the internet. Obviously none of these were taken by me and if you should use them on your own blog, then do it sneaky because people don't like it when you use their photos without their permission.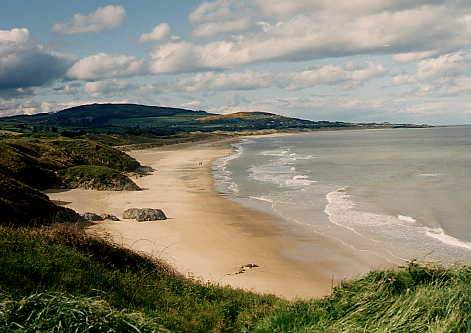 This is the beach we were on with the dogs.




A guy in a green Speedo.




Up close to the rockin' wind farm.




Rolling hills of Wicklow… although I'm pretty sure that's a golf course. It's the best I could do.