At least I don't call myself an "Irish-American" anymore.
St Patrick's Day comes and goes every year without much of a thought in our house because we aren't tourists. Yeah, we get the day off of work, and I suppose there are some people who go out on Paddy's Day and get wasted, but they are likely the same people who raised me go out from Wednesday night to Sunday night and leave puke for me to step in on Thursday through Monday morning. In general though, I don't know any actual Irish people that celebrate St Patrick's Day like non-Irish people do.

Common Questions:
Do you guys drink green beer over there? I heard they make Guinness green on St Patrick's Day.
Answer:
I can only imagine Guinness turns green when it won't get you drunk and instead give you the best trip of your life. To be honest, I would prefer that to the black stuff.

Do people just go to mass in Ireland on St Patrick's Day and not celebrate properly because it's a really holy day?
Answer:
I heard that too before from people who had been to Ireland before I had and I have to say those people are dirty little liars (here's looking at you JAMES HARVEY). The only day it seems Irish people make a point to not drink in public is Good Friday and even then they make way to the local Tesco on Thursday for their take-away drink to be consumed en masse the next night. Funny enough, since St Paddy's fell on a holy week this year, there was NO St Patrick's Day mass at all. And all the sinners rejoiced.

Do you see a lot of rainbows in Ireland?
Answer:
Actually, yes. I know, weird, right? One of those American created Irish stereotypes happens to be true if you ask me. It rains enough for it.

And every time I see one I'm all, WOOHOO, GOLD AT THE END OF THE RAINBOW! I'M GOING TO BE RICH! and Bub is all, YOU REALLY ARE STILL AMERICAN, AREN'T YOU?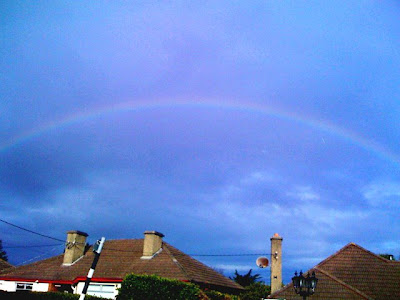 Taken this morning with my iPhone.