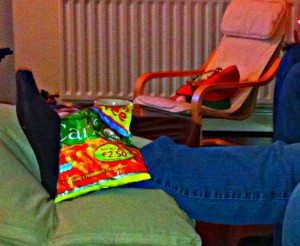 That's my mother's foot with the frozen carrots. See, in our family if cancer won't kill us, we'll just try throwing ourselves down a staircase.
Tonight, when my mother decided to go upstairs to say goodnight to Mister Man, she turned on the second to last stair to go get her purse and then somehow fell down. Both of them. And effed up her ankle. I know. When you think about it, it's hard to imagine someone hurting themselves by sort of, kind of tripping down two steps. So, you must be coming to the same conclusion I did:
Vodka.
But apparently not. She's just clumsy.
And that, my friends, has been our Christmas experience. There have been more bumps and bruises and middle of the night visits from on-call doctors than should be allowed.
First was the... stuff... in Mister's... stuff. Ahem. We had to call in the doctor to check it all our which required him to check out Mister's, you know, stuff while he was sleeping.
This is going to be the awkward, suppressed Christmas memory for him to discover in therapy one day.
Then I fell down the stairs with James on Christmas afternoon. My pride hurt more than my ass, but I was scared that James was broken in some way. Luckily, he wasn't.
And now, this. My mother flinging herself down stairs for fun.
As for my nerves, they're a little... tweaked. I keep looking in James's pee and asking my mother to rotate her ankle. I needed a little something to just relax.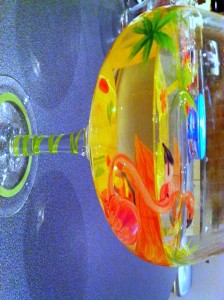 I hope your Christmas was merry. And pain free.