I completely failed when it came to my new year's resolution to update this blog every two days. Like, super-failed. Failed so spectacularly I thought that maybe I could just never post again and bury the shame of being a failed blogger next to the shame of my continued love of Harry Potter and the fact that I think Hart of Dixie really is a cute show.
I'm going to try again. I'm going to give it the best effort I can and try to update.
First, I'll talk about my other resolution. The one where I promised that I would keep up my weight loss regime and, eventually, be awesome.
Well, so far so good. I am down 73.5 pounds as of last Thursday. I still go to my WW meeting regardless of what I have eaten that week or how much weight I think I've gained on my holiday. I go and I face the facts. This sort of accountability is what keeps me going, even if I have been thinking about eating a massive burrito all day.
I generally make better eating choices. For example, during our three week holiday in America at the beginning of the month, I drank my Dunkin Donuts coffee with skimmed milk and sweetener every single time I had a cup (about a billion times) instead of light cream and heavy sugar. It hurt, but I did it.
However, no diet stopped me from eating this thing: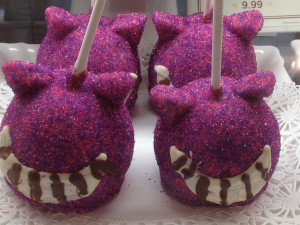 I did not share. Not even a little bit. I ate the whole thing and it was as big as Mister Man's head.
I have no regrets.
So, this resolution I am sticking to. And, let's be honest, while blogging can be fun, it's certainly not as good for my health as dropping over 70 pounds can be.
Pictures from our American holiday to Mickey Mouse World to come.