A few months ago, on a random Thursday, Bub asked me if I wanted to go see Florence + The Machine in March, taking the best Christmas gift he could have ever bought me and giving it away for free. That would have completely cleared him for our anniversary, Valentine's day, my birthday but he asked causally like it was no big deal and I accepted.
It was a big deal.
I love her. I LOVE HER. Her music is happy and high energy and loud, even when it's a little sad and slow and at a low volume (so, opposites, yeah?). In the evenings I do something I call 'bopping' where I put in my headphones and embarrass myself by, em.. dancing? around the kitchen for 45 minutes. It's mostly jumping with some uncoordinated kicks. I shake things. It's not good. I just feel so uplifted by everything she does that I can't help myself.
On Friday, we went to the O2 to see Florence and it was all I spoke of for about two weeks to anyone who would listen. We went and we sat in the furthest seats from the stage and when the lights dropped, I gasped. Like, Oh! She's here! She's going to sing! WHAT A SURPRISE!
Why do I get like that? I was taking to Bub one second and then next, as soon as the lights went down, I was pinned to the back of my seat like Robert Pattinson just walked into the room and was headed straight for me with lust in his eyes. (Rawr.) Shock, surprise, awe and the desperate need to go pee is what I felt. I started clapping and NOTHING HAD HAPPENED YET. I was clapping at a dark stage of nothingness. The giant rugby player man next to me had to have rolled his eyes. (Later, he was clapping so hard and so out of rhythm that I couldn't dislike him.)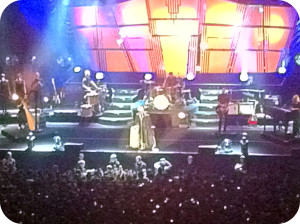 She came onstage, she did a few moderately known songs (they were brilliant!) and then she did "Dog Days are Over", her first real hit and a song everyone in the place could sing. It was the song when people decided that even if you were sitting, that portion of the night is over and now the standing portion will commence. It's the reason you don't wear heels to a concert, ever, even if you think the band will decide that you are the most awesome woman in the venue, based solely on your footwear, and ask you to join the tour.
Half way through the song she instructed the audience to start jumping in place, something she apparently does at all shows, and to do so until you can not jump any longer. I thought two things:
I'm not sure my bra can withstand this sort of pressure; and
MY TIME HAS COME.
I had been training for this very moment. All of those nights spent in the kitchen jumping up and down in place to her music and now I was going to do that very thing. And I was going to do it in public! She wants me to jump in place like a kid on pixy stix and fling my hair around. She wants everyone to do this! And she'll do it too!
And I did it. I bopped so good. If there could be an award for bopping, I would have won gold. I didn't stop. I didn't have to stop! I could have jumped in place for ages, only pausing briefly to carbo-load and refill the nalgene bottle.
The song ended, and the jumping ended with the song (I could have kept going - BELIEVE IT), and I spent the rest of the night with a smile on my face, knowing that I am the queen of the bop, and that Florence helped me achieve that perviously unknown goal.
See you in July, Flo!