Seven years. I can't believe seven years have gone by since I put on the big white dress and walked down the aisle. I cried while marching down on my dad's arm not because I was scared or nervous or upset or even overwhelmed but because that's what Pachelbel's Canon does to any person who doesn't have stone residing in the centre of their chest. Still to this day I'll tear up if I hear the tune.
And, as I sit here and look through the photos the thing that stands out the most right now is that I just could barely breathe with that corset on. I had to choose whether or eat or drink and I wisely chose food. And then later this happened: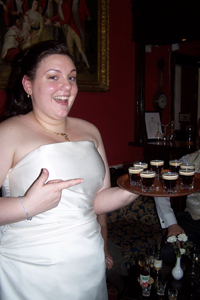 I've only gotten classier with age, too.
Seven years, three moves, one house and a gorgeous little boy later we are still together and I'm not feeling very itchy. I'll love you forever, my darling.