This past week in Ireland has been miserable and not because we're all eating horse meat or HMV/Deloitte are being heartless, broke bastards. Well, not entirely.
The weather has been wet, cold and, now, snowy in some places and so all of Ireland should decide to just take a duvet day. Mister Man and I are still in our pyjamas and everyone in the house has had a cup of hot cocoa. If we didn't have an anniversary dinner to head to tonight (lobster for seven years, right?) I wouldn't move from the sofa.
However, while the rest of us were slogging through the freezing rain to get to work, my dear mother decided to staighten out the risers on my stairs.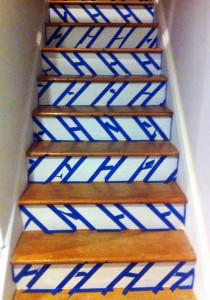 They were boring, white risers and after endless searching and pinning of different risers on pinerest done by me, she took matters into her own hands, made a small template and did it herself.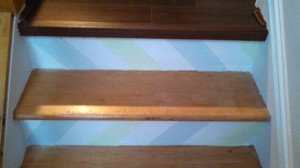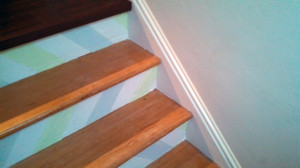 If there was light from, I don't know, a big ball of fire in the sky I'd have a picture of the whole staircase but since it looks like we may never see something like that again, the corner pictures will have to do.
Next week she starts on the bathroom remodel.